I Went On The Internet And Found This
Can I Knit On An International Flight?
Sometimes I Put My Hands In The Air, Sometimes I Pretend I'm A Carrot
http://heyyeyaaeyaaaeyaeyaa.com/
Mourning and Afternoon
Let Me Google That For You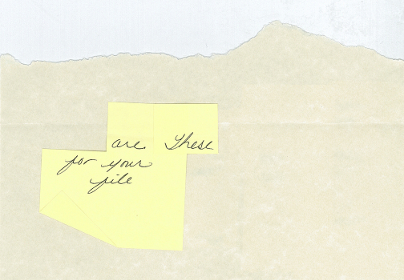 Richard Kamerman (b. NYC, 1985) continual improviser, periodic composer, automated percussionist, inept programmer. Kamerman's artistic interest is aimed foremost on the task of magnification. Small sounds, small gestures - made large. Inconsequential events - made important. The vast difference made to a narrative by a small change in focus. Room acoustics, microphone/pickup placement, and amplification are often very important to his live construction of sound, where he places great weight on the embracing of unintended consequences - e.g. errors in translation/format conversion, bursts of feedback, power supply failures. Long term collaborative projects include Tandem Electrics (with Reed Evan Rosenberg), delicate sen (with Anne Guthrie and Billy Gomberg), Fyxzis (with Steven Flato and Corey Larkin), and Frogwell (with Robert Hardin, Bob Lukomski, Jeremy Slater, and Tamara Yadao). He additionally runs the small-press music label Copy For Your Records.


UPCOMING PERFORMANCES

November 5, 2013, The Living Gallery, Brooklyn Eric Laska's "ACTING ON IMPULSE"


"To live in expectation, in what is not yet, is to accept the stimulating disequilibrium implied by the very notion of future. Every nostalgia is a transcendence of the present. Even in the form of regret, it assumes a dynamic character: we want to force the past, we want to act retroactively, to protest against the irreversible. Life has a content only in the violation of time. The obsession of elsewhere is the impossibility of the moment; and this impossibility is nostalgia itself."

                       - E. M. Cioran