I Went On The Internet And Found This
Can I Knit On An International Flight?
Sometimes I Put My Hands In The Air, Sometimes I Pretend I'm A Carrot
http://heyyeyaaeyaaaeyaeyaa.com/
Mourning and Afternoon
Let Me Google That For You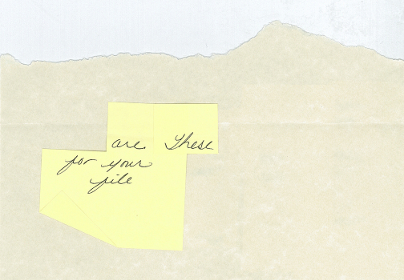 Richard Kamerman (b. NYC, 1985) has been breaking electronics and crashing computers while trying to coax interesting and unpredictable sounds out of them for over a decade. Occasionally, he has also presented himself as a more serious composer of re-performable written music. Keywords: amplification, magnification, obfuscation, systems design, game theory, patterns, human error, accident, failure. Although a firm believer in the axiom that "one man's trash is another man's treasure," he ceased collecting his instruments from piles of junk left on the curb several years ago, fearing he might bring home bedbugs. Recordings of his solo or collaborative works have been released by Erstwhile Records, Pilgrim Talk, Contour Editions, RRRecords, and Engraved Glass, among others. Kamerman has performed or had his music performed throughout the US as well as internationally in Canada, Germany, Switzerland, the United Kingdom, and Chile. He also runs the small-press music label, Copy For Your Records.





"To live in expectation, in what is not yet, is to accept the stimulating disequilibrium implied by the very notion of future. Every nostalgia is a transcendence of the present. Even in the form of regret, it assumes a dynamic character: we want to force the past, we want to act retroactively, to protest against the irreversible. Life has a content only in the violation of time. The obsession of elsewhere is the impossibility of the moment; and this impossibility is nostalgia itself."

                       - E. M. Cioran